Gardener in Oaklands
Here at Matt Hart Gardens and Landscaping, we offer gardening services in and around Oaklands. Based in Stevenage with over 15 years experience, we offer a full range of landscaping skills from hedge cutting and lawn maintenance through to supply and construction of patios, fences and sheds. We look after gardens of all sizes and shapes, providing clients with a personal service at a competitive price. So if you're looking for a gardener who can maintain your garden with regular visits, or need new fencing, raised beds or like the idea of building some new decking, call or email Matt to arrange a no fee chat and quotation on 07817 423084 or 01438 314258 (evenings) or alternatively e-mail Matt on matt@matthartgardens.co.uk.
We pride ourselves on delivering an excellent year-round service, so whatever your project we'd be happy to hear from you.
Landscaping in Oaklands
Matt Hart Gardens and Landscaping work across the villages of North and East Hertfordshire including Oaklands. Focusing on the villages which surround our base in Stevenage allows us to provide a local, friendly service and we traditionally use suppliers from the area for all plants or materials required. So if you live in Oaklands and need your lawn cut, or you have a hard landscaping project like a new shed build or block paving that needs to be replaced, Matt Hart Gardens and Landscaping have got all your requirements covered.
Working on a variety of landscaping projects across North and East Hertfordshire, we're flexible in terms of the work that we cover. We're experienced in creating the garden that you want and can offer advice and ideas when it comes to hard landscaping and the plants that will suit your particular garden.
Here's a summary of the type of work that we can deliver for you, sourcing materials and plants from local suppliers in Hertfordshire: laying patios, slabbing, block paving, pathways, flagging, crazy paving; pressure washing of patios, driveways and walls or application of sealant; shed and base construction; laying turf for new lawns; fencing and decking, raised beds, existing wood treatment; water features and ponds, full garden clearances and much, much more.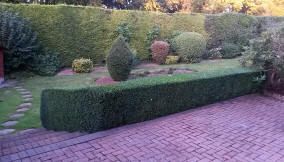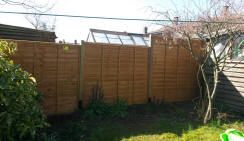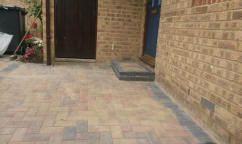 Here's a list of typical services we provide:
Hard Landscaping
Fencing and gates installation - we can provide regular treatments to protect wood.
New patios and paving.
Pressure washing of patios, driveways and walls or application of sealant coat to help protect the colour of the stones and guard against future stains.
Block paving.
Turfing.
Shed and base construction or existing shed wood treatment.
Timber work and decking, including steps, raised beds and pergolas. We also treat existing woodwork to provide ongoing protection.
Soft Landscaping
Lawn mowing, strimming and edging.
Hedge cutting.
Regular lawn maintenance - techniques include: aeration of your lawn to help against ground compaction; scarify to help remove moss and thatch; apply weed and moss treatments to help remove them; apply fertiliser to promote lush green grass through the summer; apply fertiliser to promote root growth to help your grass through the winter.
Garden planting - jobs include: creating and planting new shrub borders; planting hedges; planting trees including fruit trees; planting seasonal bedding, pots, hanging baskets and widow boxes.
Small and large tree work - all of our large tree work is undertaken with professional tree surgeons.
Shrub and rose pruning; weed removal and growth prevention.
Call Matt on 07817 423084 or 01438 314258 (evenings) or alternatively e-mail him on matt@matthartgardens.co.uk.